It's always a bit unnerving when the left and right consistently agree on something (aren't the two sides supposed to be polar opposites?) but it's even more disconcerting when the one point they choose to agree on is a complete misconception. So I was disappointed when I read an
article
on Green Left about how to stop terrorist incidents such as the
Bali
bombings. The article, while differing completely in its analysis of the problem, basically agrees with the rightwing view that terrorism is a major plague in the world, something that should occupy the top of our agenda. While differing in their analysis, both the left and right seem to agree that small acts of terrorism here and there should be the driving force determining U.S. policy abroad.
Let's put this in perspective. Out of the billions of people occupying the planet, a few will get killed in acts of terrorism. Yet my guess is that most of us could spend an entire day walking around a city asking everyone we met if they had personally known anyone who had been killed in a terrorist attack and many of us would come back without meeting anyone. Try that now with cancer or heart disease. Or accidents. Or pretty much anything else. The fact is that a quarter of us (excluding a few of the younger bloggers) will probably get heart disease or cancer in the next 10 years and about half will sustain an injury. Most of us are probably much more likely of dying from a collision with a deer. Objectively, the most threatening people to us are those in our family, or perhaps our neighbor who will shoot us over that argument about the fence.
If we look at a
Paling Perspective Scale
, we'd have to vastly expand the graph to fit in such unlikely events as terrorism.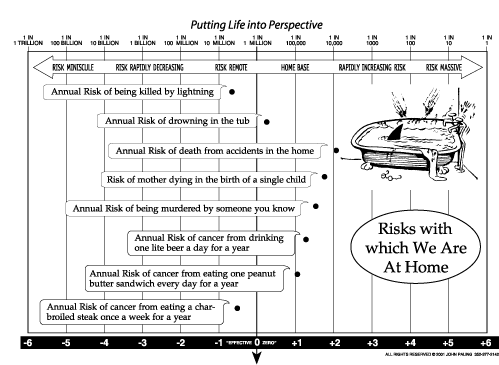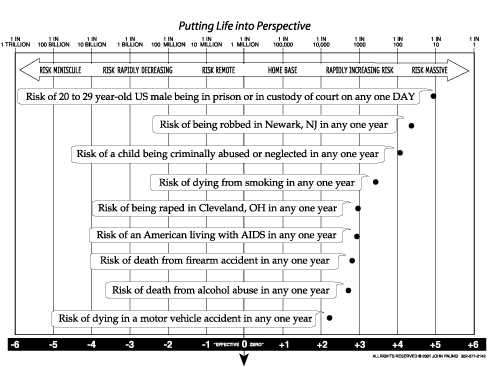 I think that both the left and right have completely fallen for the B.S. of those with an agenda. The best way to conquer
terrorism
is to allow it to have absolutely no effect on our international or domestic politics. We don't fly off onto century-long crusades everytime a child dies from a bee sting. Terrorism is essentially drama. By looking at it rationally, we deny it any force. For those unconvinced by my rantings, I would recommend that you look at the book
Fear Less
.